25 Of The Best Bryce Canyon Photography Tips And Locations
Bryce Canyon National Park is one of the more spectacular National Parks in the United States park system. Known for its incredible texture, color, and picturesque overlooks, the park sees, on average, about 2.5 million visitors every year. One of the main reasons the park sees so many visitors is the accessibility by car to its many impressive overlooks. As for photographers, Bryce Canyon offers countless composition opportunities in an ever-changing light. Before I dive into the photography side of things, I'll give you a little background on the park to help you get acquainted. These extra tips will help further your understanding of this park to help you get the most out of your experience.
1. WHERE IS BRYCE CANYON NATIONAL PARK?
Bryce Canyon is located in Southern Utah along UT-12.
From Zion National Park (72 miles)
Take Hwy 9 east toward Mt. Carmel Junction. Take Hwy 89 north for 43 miles, then turn right and head east on Hwy 12. Head South on UT-63 towards the park entrance. Travel time is 1.5 to 2 hours.
From Salt Lake City, UT (268 miles)
Take I-15 S toward Las Vegas, NV, for 213 miles. Take exit 95 and head southeast on Hwy 20 to Hwy 89 South, then Hwy 12 East. Head South on UT-63 towards the park entrance. Travel time 4 hours
From Las Vegas, NV (260 miles)
Take I-15 N toward Salt Lake City. Take exit 95 and head southeast on Hwy 20 to Hwy 89 South, then Hwy 12 East. Head South on UT-63 towards the park entrance. Travel time 2.5–3 hours.
2. WHAT MAKES BRYCE CANYON SO SPECIAL?
What makes Bryce Canyon so special are the Hoodoos, Color, and Variety.

Red rock hoodoos are the spire-like rock formations that give this park its character. They are formed by the perfect combination of rock deposition, the tectonic plate's uplift, and weathering erosion. These spires fill the park creating so much interesting depth.
The colors inside Bryce Canyon change by the minute, all day but dramatically at sunrise and sunset. Light bounces off the canyon walls and hoodoos, illuminating various features and giving them a backlit appearance. Reds, oranges, and whites pop brightly in soil formations while dark green evergreens fill in the gaps.
Each lookout inside the park offers such a dramatically different perspective the compositions are endless. If you're of the physical body and can traverse down into the trails, a whole new world of perspective opens up.
3. SAFETY INSIDE THE PARK
Bryce Canyon is among the safest National Parks to visit because so much can be seen just footsteps from the parking lot. However, this does lead to an exciting set of new circumstances. The National Park Service says, "Not wearing shoes or boots designed for hiking is the number one cause for rescues and injuries resulting in hospitalization in Bryce Canyon." Leaving the parking lot for a quick view in your sandals is easy, and then venturing down a trail for a different perspective.
4. ELEVATION OF BRYCE CANYON
Bryce Canyon is at about 9,000ft, so you have about 70% less oxygen available to use. While you can hardly notice it at the top, once you start your journey down the trail heading back up can be a challenge. Unlike most parks, at Bryce, you hike down. Getting back up to your car is another story. Overexertion and dehydration are significant problems in the canyon. Bring enough water and hike at your own pace. Finally, the weather can swing 50 degrees Fahrenheit (27C) in a single day. Bring layers and check the weather before starting.
THE BEST PHOTOGRAPHY GEAR FOR BRYCE CANYON
Tripod – Hands down, just as any photography list, a sturdy tripod. The light in the canyon is best photographed in the early morning and evening light, where longer exposures can illuminate your composition. Taking a few seconds of exposure before the sun rises over the horizon can make the earth glow with fire. Not only do you want your tripod to be sturdy to do long exposure, but the wind coming up the canyon can rattle flimsy lightweight tripods. ( An added pro tip, make sure your tripod has a decent grip, or you may be fetching it out of a canyon with the rangers.)
Wide angle lens – Most of the magnificent images you have probably seen have been taken with a wide-angle lens. Just like any landscape, capturing the awesomeness of what is in front of you is easier with a wide-angle lens, but what you may need to realize is some of the most impressive features are rather close to the trail. A wide-angle lens will help you capture the entire feature while creating your unique composition.
Telephoto lens – Bryce Canyon is one of the best places for abstracts hidden inside a landscape. The Hoodoos lend endless opportunities to create unique abstracts showing off the most famous aspect of the park. Pack something in the 70-200mm range or even 100-400mm range and get creative with the light available.
Graduated Neutral Density Filter or Polarizing Filter – In the morning, light changes quickly in the canyon. As the sun breaks the horizon and ventures up into the sky, it can be challenging to keep your exposure from blowing out the highlights or losing everything in the shadows. Bracket exposure and stacking is one way to avoid this, but I find it so much easier to drop a graduated neutral density filter in front of the lens to help even out the light. A polarizing filter helps cut the haze out of the sky and background. This one really comes down to preference.
Nice-to-haves (other photography-related gear)
Remote cable release or timer to eliminate touching your camera
Cleaning cloth to get rid of any dust particles that land on your lens
Waterproof camera bag to help keep your gear dry and dust-free
Headlamp to see as you set up in the dark for the excellent morning light
Extra batteries for your camera gear. Mornings are cold, and batteries drain fast in cold weather.
THE BEST LOCATIONS FOR BRYCE CANYON PHOTOGRAPHY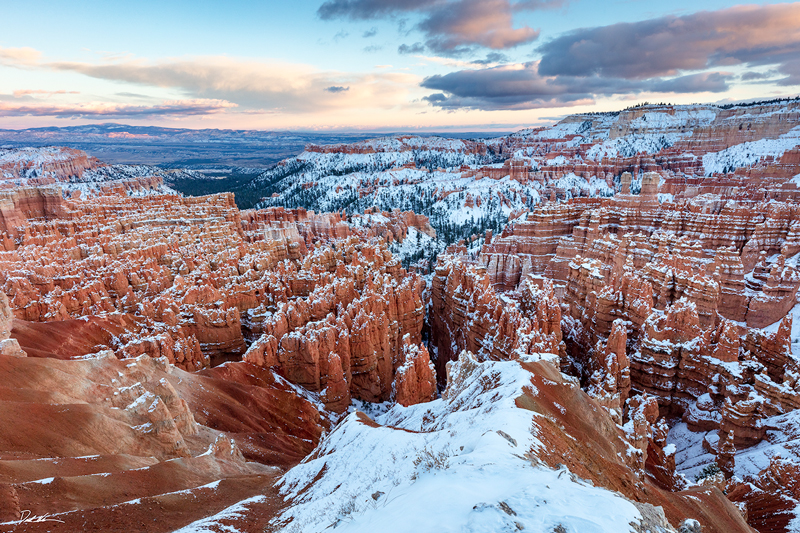 Once you pass through the park's main visitor entrance, most viewpoints will be on your left side.
Sunrise Point. This location is a good spot to watch the sun light up the canyon as it rises over the horizon, but the sun will be off to the east, and it is difficult to get it in the shot with the canyon in view. If the sun at your back is your desired shot, then this is the place for you.
Sunset Point is down the road. This location has so much to offer. Most famously is Thor's Hammer. This may be the most famous hoodoo in the park, and for a good reason. From Sunset Point, you have access to Wall St and the Rim Trail. Spending a sunrise at Sunset Point may seem counterintuitive, but this may be the best location in the park. The sun rises directly in line with endless possibilities for compositions.
(A Fresh Start – Limited Edition Fine Art Print of 6 – Derek Nielsen Photography)
Rim Trail from Sunset Point to Inspiration Point is spectacular. The hike itself is not that challenging, but the views down the canyon are incredible and ever-changing. While most photographers like to find a rock-solid composition and sit on it while the ideal light happens, the Rim Trail will make you question composition after composition after composition. With so many available, it's easy to get pulled away by the next beautiful view.
(Art Of The Gods – Limited Edition Fine Art Print of 6 – Derek Nielsen Photography)
Inspiration Point is fourth and midway down the Rim Trail. This elevated vantage point gives you the first overlook of the main amphitheater from a higher position. This is also the last location you can capture the sun in a composition with the canyon formations during sunrise.
Bryce Point is the crown jewel of overlooks to give you an overall vantage point of the most impressive grand view of Bryce Canyon. At 8300 ft, Bryce Point offers you the most in composing views of the hoodoo-filled red rock amphitheater. This north-facing location is spectacular throughout the day. I found myself lucky to have some big puffy clouds mid-day to make even the flattest light enjoyable.
(The Maze – Limited Edition Fine Art Print of 6 – Derek Nielsen Photography)
Wall Street is Bryce Canyons' only slot canyon. It is reachable by both Navajo Loop (from the top) and by Queens Garden (from the bottom) trailheads. Starting from Sunset Point, you will descend down into one of the park's best features.
Natural Bridge is located 13 miles after entering the park. The Natural Bridge Turnout is between Farview Point and Agua Canyon. Easily accessible from the carpark, Natural Bridge makes for easy and spectacular photography composition.
Rainbow Point is at 9,115 feet, making it the highest viewpoint in the park. This is the final car-accessible viewpoint located at the end of the National Parks UT-63. Visitors can see many of Bryce Canyons' best features north from here.
Bryce Amphitheater is what most people come to see. Found along the first three miles after the park entrance, this breathtakingly beautiful portion of the park holds most of the day hikes offered in the park. The Maze shown above was taken there.
TOP HIKES IN BRYCE CANYON
The Rim Trail is the most picturesque hike in the park. Located along the west rim of the canyon, the largest saturation of hoodoos can be found here. The Rim Trail is my favorite place to photograph sunrise or sunset.
Navajo Loop Trail starts at Sunset Point. The 1.3-mile hike takes visitors through Wall Street and Two Bridges. In bad weather, this hike can be difficult because of rapid elevation changes but it is a lovely short walk.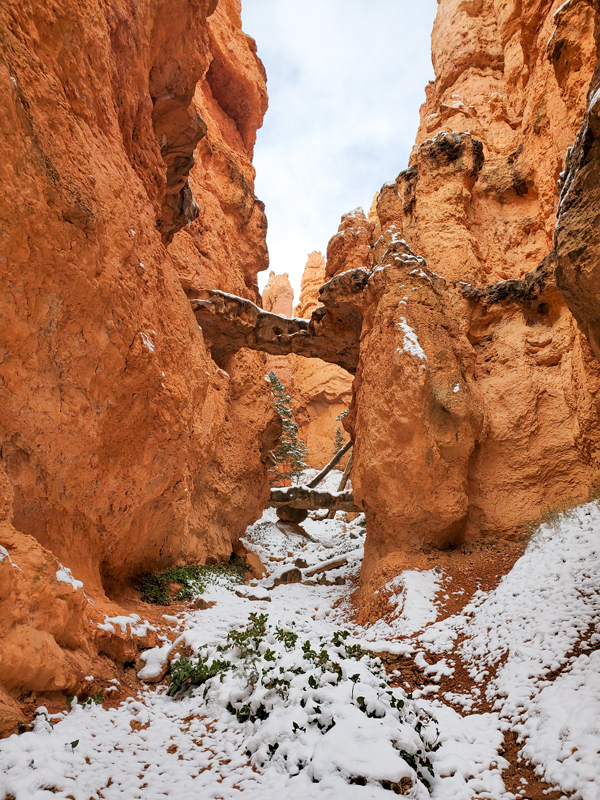 Queens Garden Trail begins at Sunrise Point, leading south into the garden, meeting up with the Navajo Loop Trail. This will complete a loop if followed to Sunset Point. Queen Victoria's Hoodoo is located near the junction; a hoodoo whose shape resembles the late queen of England.
Mossy Cave Trail is a quick in-and-out hike located at the park's very north end. Usually, hikers can do this in under an hour. Mossy Cave is located off a side trail about 3/4 of the way to the end and is a common place to find water.
The Peek-a-boo Loop Trail is a strenuous hike lasting 3-4 hours. This loop trail descends from Bryce Point, weaves through the amphitheater and ends back at Bryce Point. If possible, a clockwise approach is recommended on a map.
The Fairyland Loop Trail is one of the longer day hikes in the park. 4-5 hours are recommended to allow for this loop trail. The hike is recommended to be completed in a counter-clockwise direction. This hike is approximately 8 miles.
The Hat Shop Trial also starts from Bryce Point. This strenuous in-and-out hike covers 1380ft of vertical elevation change. Red rocks and hoodoos decorate the landscape, with some hoodoos hosting grey boulders atop, giving this trail its name.
BONUS SECTION
BEST TIME OF YEAR TO VISIT BRYCE CANYON, NATIONAL PARK
Summer months provide beautiful cool mornings to get in and out of the canyons early. It would be best if you started hiking during blue hour before the day gets too hot. Bringing extra water is a must for hikes mid-day. The high elevation of the park helps keep it cool but pay attention to the forecasts.
Winter months give some of the most breathtakingly beautiful sunrises. Typically show, dusts the canyon walls adding extra dimension to the already texture-heavy park. Bring warm gear because it does get very, very cold in the winter. Hypothermia is a risk during winter.
ARE DOGS ALLOWED IN BRYCE CANYON?
Fortunately, dogs are allowed in the park but only on a leech and near the parking lots. Dogs are not allowed in the Amphitheater or on any hiking trails. Dogs are allowed in Red Canyon, a wonderful nearby park where this photo was taken.
WOULD YOU BE READY TO VISIT BRYCE CANYON?
After spending a few weeks hopping around Bryce Canyon during the height of the pandemic, I gained a strong appreciation for the seemingly fictional beauty this place has to offer. It's up to you now to plan just how you want to capture, experience, and enjoy this national park. Whether you want to get away on that summer road trip or sprinkle snow across your winter composition, you will be hard-pressed to find a more photogenic National Park in America.
Thank you for diving deeper into what makes Bryce Canyon such a special place for photography. Zion National Park is an easy day trip down to visit from Bryce Canyon. Many visitors who visit one visit the other on the same trip. While Zion National Park does not have hoodoos, it makes up for impressive cliffs of rolling rock formations. When planning your visit, try to hit both. You will not be disappointed.
Canyon Fire – Limited Edition Fine Art Print of 6 – Derek Nielsen Photography