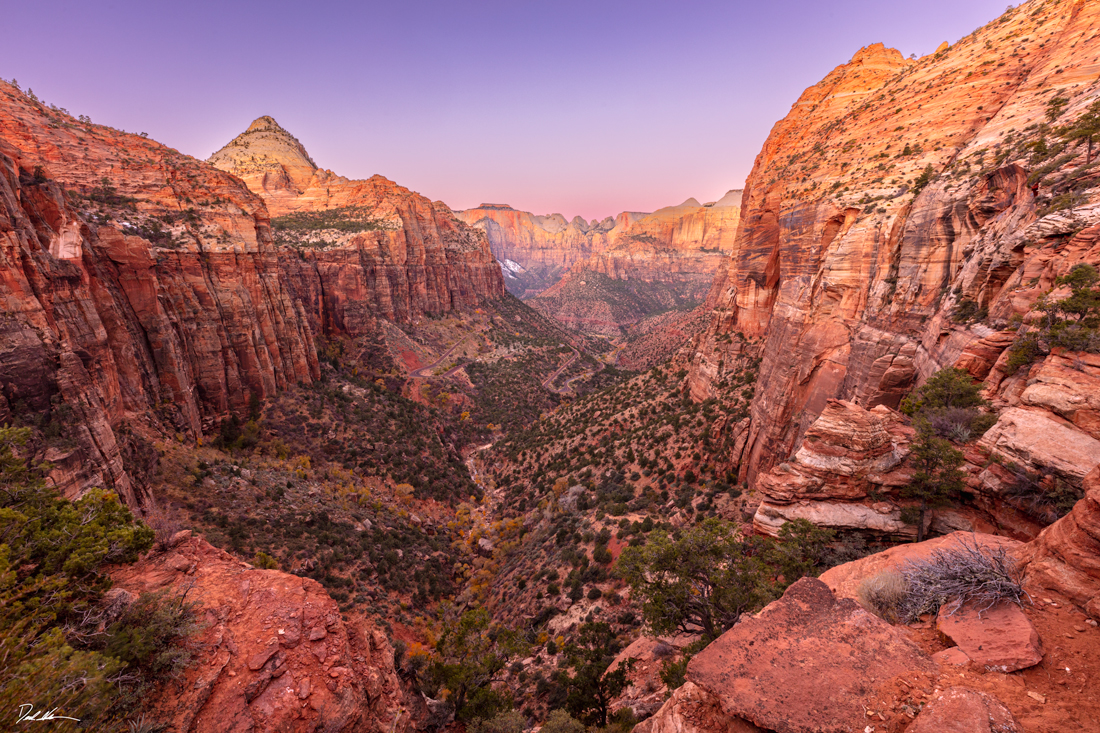 Zion National Park Photography 5 Important Things To Know Before You Visit
Zion National Park is one of the most popular National Parks in America's Southwest. Located near Springdale in Southwestern Utah, the park is known for its fantastic geological formations. For this reason, Zion National Park is a playground for outdoor enthusiasts like rock climbers, hikers, and photographers. In 2021 Zion National Park reached an annual visitation of 5 million guests, making it one of America's most visited national parks. Here are some essential travel tips to consider when visiting.
1. Getting to Zion National Park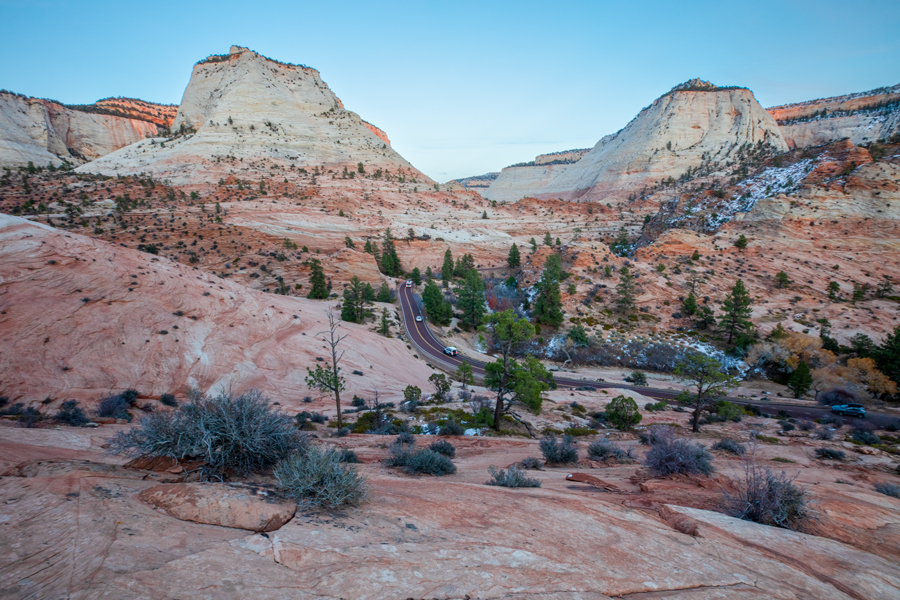 Getting to Zion National Park requires some driving. I recommend renting a car or camper van instead of taking a big tour bus so you can explore the park at your own pace. Parking is found at the south entrance, including charging ports for electric cars. Reservations are no longer needed to use the shuttle system. Shuttles run from March 1st to December 31st. The first shuttle leaves the visitor center at 7 am, and the last returns at 715 pm.
For those coming from Kanab, the drive is roughly 30min. I spent many days living in Duck Creek Village, driving back and forth between Zion and Bryce Canyon. Duck Creek Village is a perfect place to rent a short-term rental to visit both parks. Driving time between Zion and Bryce Canyon is 1 hour and 30 minutes.
Closest Airports to Zion National Park
Harry Reid International Airport- This is the closest international airport to Zion. The average driving distance is about 3 hours to the south entrance. 170 miles.
Salt Lake City International Airport- This airport is another excellent option, particularly if you plan on visiting some of the other fantastic neighboring National Parks to the North. It is a 4-hour drive if driven straight, but many people visit Arches, Canyonlands, and Bryce Canyon National Parks first on their way south to Zion.
St. George Regional Airport- With daily flights to Denver, Salt Lake City, and Phoenix, this regional airport is an excellent alternative for the long-distance traveler. The airport is a 1-hour drive to the park's south entrance.
2. Where To Stay When Visiting Zion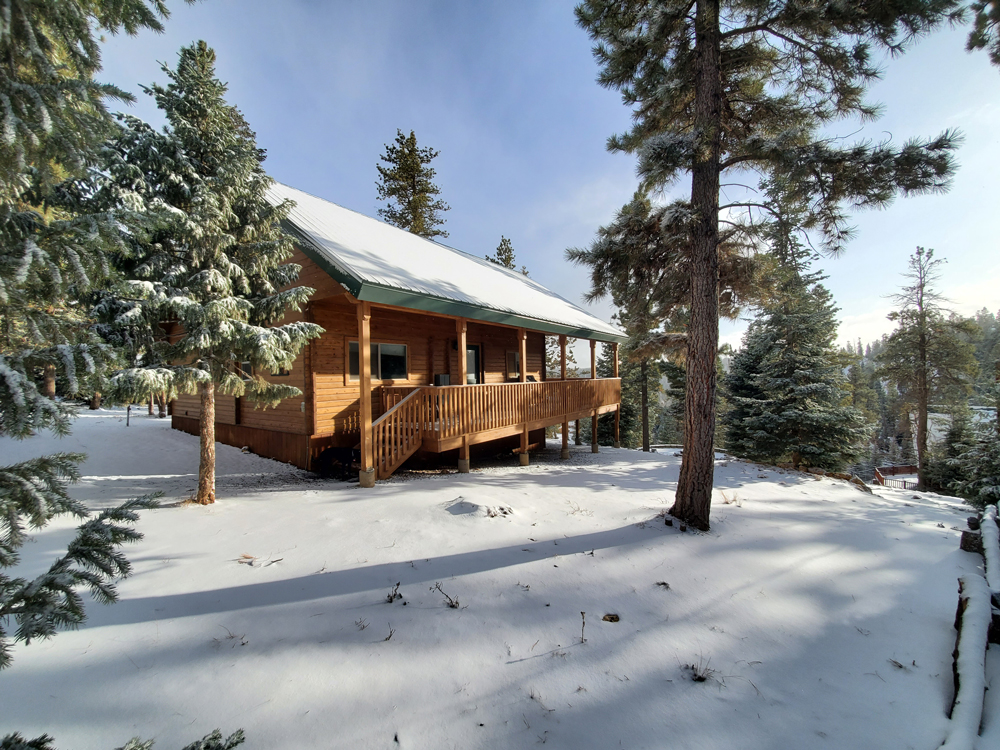 There are three popular places to stay when visiting outside the park. Depending on how long you plan on staying in the area, each location offers something different. With this in mind, let's look at each location deeper.
Springdale – Because of its proximity to the entrance to Zion National Park, Springdale is the most popular location to stay. Here you will find a number of options, from 4-star hotels to bed and breakfasts. Daily shuttles will run through town, bringing travelers into the park from their hotels. Dining options are available up and down the main stretch; however, during peak season, reservations are recommended. Visit the Zion Brew Pub for that long-awaited cold beer after a long day of hiking. For dog owners, a great place to board your dog while spending the day exploring the park is Canyonpaws.
Kanab – Located on the border between Utah and Arizona, Kanab is ideal for those looking to visit the Grand Canyon and Zion National Park. Visitors looking to hike the famous "Wave" often use Kanab as a launching point. Visitors will find great dining options along the winding Main Street, including this vegetarian favorite, Peekaboo Canyon Wood Fired Pizza.
Duck Creek Village – Perfect for short or long-term rentals, Duck Creek Village is located off Utah Route 14. The village is a bustling vacation destination for the ATV crowd during the warm weather months. The tiny town offers a reliable hardware store, a gas station, and a few restaurants. Duck Creek Village is ideal for visiting Zion National Park, Bryce Canyon, the North Rim of the Grand Canyon, Cedar Breaks National Monument, and Kanarra Falls.
3. Safety Inside Zion National Park
From records, a total of 16 reported deaths have occurred hiking Angles Landing alone. Hiking in such an intense ecosystem requires planning. Weather conditions change quickly. Before hiking please check with the park staff or research weather conditions. Dehydration is common inside Zion. Bring more water than you are used to. Temperatures can reach well over 100 degrees Fahrenheit. In contrast, hypothermia is also a common cause of concern inside the park. A woman died in November 2022 from hypothermia while hiking The Narrows Trail.
4. Best Photography Locations Inside Zion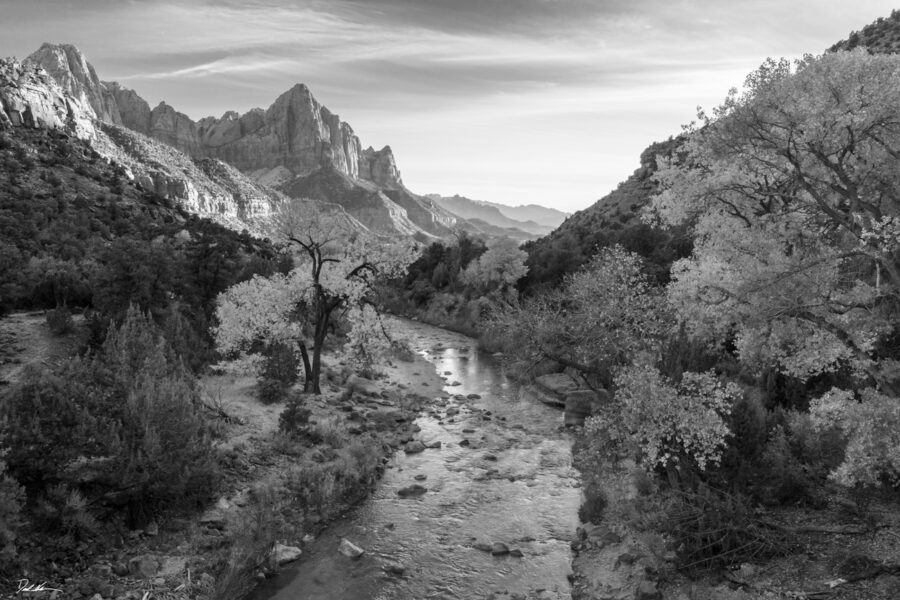 (The Watchman – Limited Edition Fine Art Print Of 6 – Derek Nielsen Photography)
Zion National Park has so many great locations to compose beautiful landscape scenes. Some are much more difficult to get to and even require a permit to visit. Even though the image above of the Watchman is now an off-limits location, there are still plenty of great spots to compose. Let's dive into the best photography locations inside Zion National Park.
Canyon Overlook – The trail is one of the easier trails in all of the park, and the rewarding view is as impressive as it gets making it a very popular short hike. Coming from the visitor center, you will head toward the east entrance. After making your way up the zig-zagging road and through the tunnel, a small parking lot will be on the right. This parking lot will undoubtedly be full unless you arrive way before sunrise. That being said, plenty of parking is along the road leading out of the canyon. Make sure your vehicle is completely off the road, or it will be ticketed or towed. The trail itself is not very dangerous or intimidating; the only really dangerous part is the sheer cliff at the end, looking over the canyon.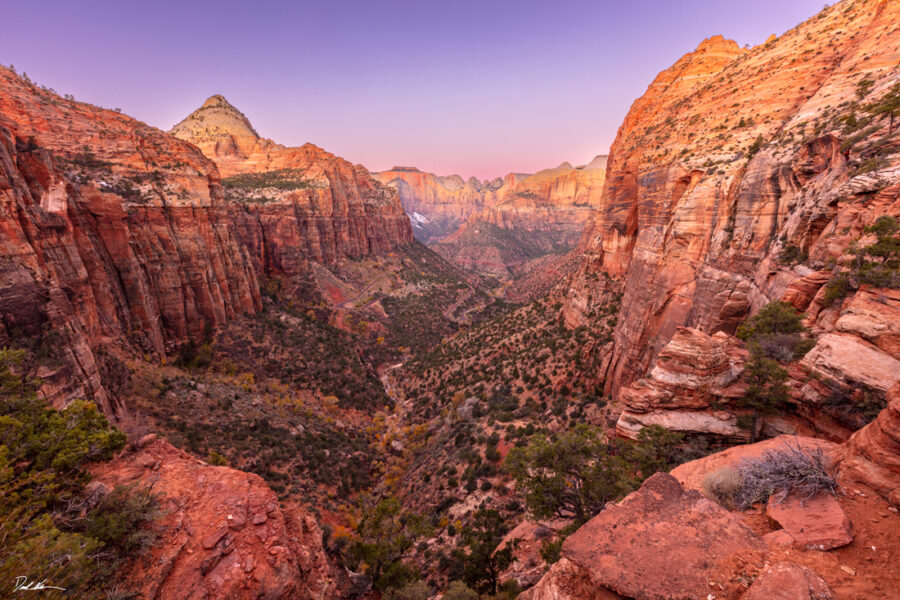 (Canyon Fire – Limited Edition Fine Art Print Of 6 – Derek Nielsen Photography)
The Narrows – This hike inside Zion requires the most planning because it is mostly in water. Sometimes freezing cold mountain water. Outfitters in town will rent waiters to protect you from the deep cold waters during the cooler months. During the warmer, dry months, simple water shoes are perfect. For photographers, a dry sac is a good idea, along with a tripod. I will get into gear recommendations in the next sections, but it's also worth mentioning here. Many people begin the hike from the Temple of Sinawava via the Riverside Walk. Here, you will enter the Virgin River wandering through the canyon up to Big Spring. The total distance is 10 miles round trip and is a full-day hike. No permits are required for this portion of the hike.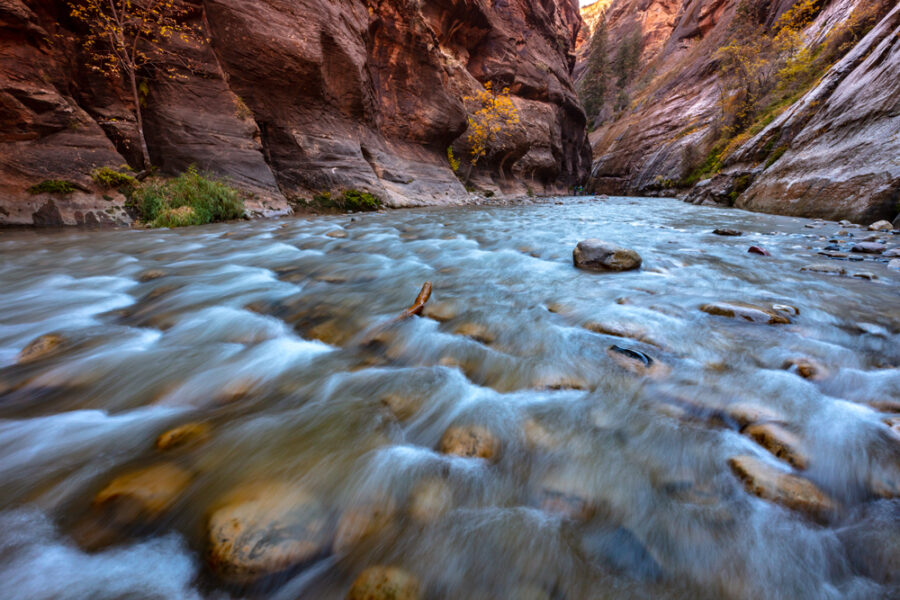 Angles Landing – A permit is now required to hike the final portion of the Angles Landing trail to the infamous mid-canyon viewpoint. Surprisingly, as much as I dislike permit systems in general, this one makes sense. As a result of the Covid 19 pandemic, the United States National Park system saw a huge influx of visitors. Regardless, I hiked this trail in the fall of 2020. With steep cliffs on each side, too many people on the trail, and icy conditions, I never felt comfortable until the end of the hike. That being said, Angles Landing is still a fantastic experience for those skilled enough to try. The hike leading up to (West Rim Trail) and beyond Scout Lookout is a fantastic hike and does not require a permit. In reality, this portion of the hike was my favorite, regardless of the views on the landing.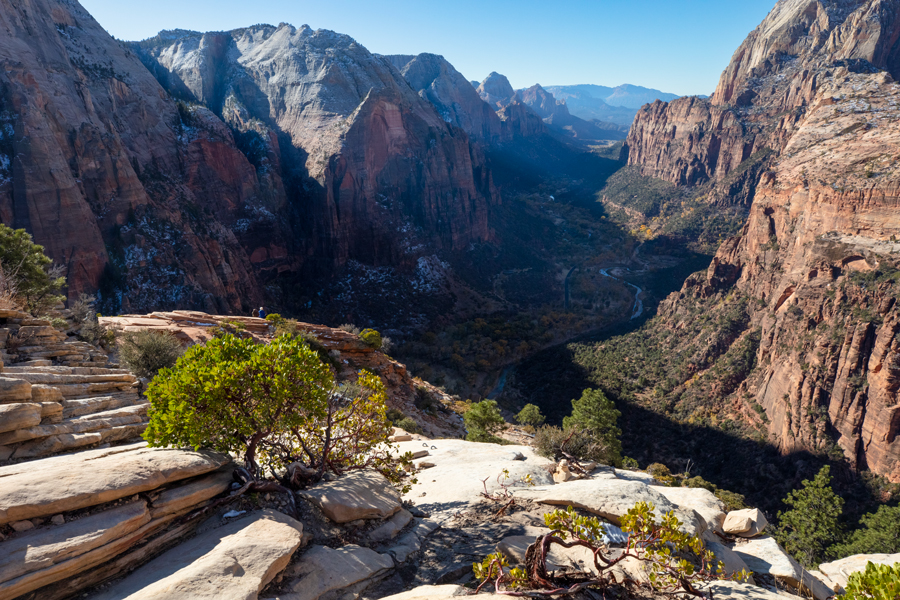 Other Notable Hikes In Zion
Emerald pools – Easy to moderate hike with ample shade in the afternoon.
The Subway – (permit required) This moderate hike is best done in the fall when the weather is cooler, and the fall colors add to the scene.
The Watchman – This hike can get busy because of its proximity to the park entrance. However, depending on the time of year, you can find yourself completely alone.
Observation Point via East Mesa Trail – The traditional route to Observation Point is closed because of a landslide. However, the iconic lookout can be accessed via East Mesa Trail.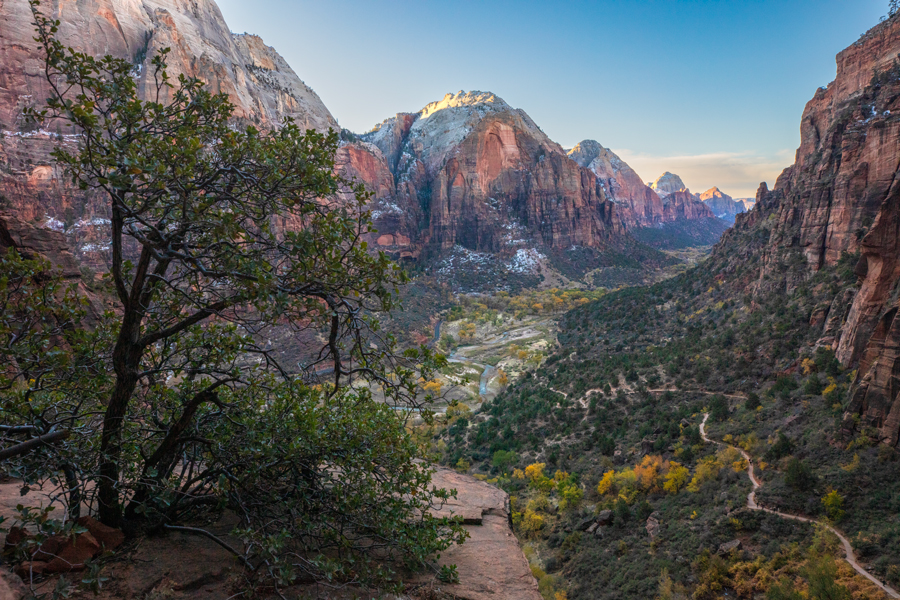 (view from the West Rim Trail leading to Angles Landing)
5. Helpful Photography Gear For Zion National Park
Tripod – Professional photographers need to bring a sturdy tripod. Not only will you find it helpful during the early morning and late evening sweet light shots but also while capturing flowing water in the canyon. The walls of the canyons cast deep shadows. In tighter spots like The Narrows, even less light gets in. You will need a tripod to capture that smooth water flowing over rocks in the foreground with the majestic canyon walls towering beside you.
Graduated Neutral Density Filter – As mentioned above, the canyon walls cast dark shadows into the valley below. In order to create a balanced exposure, a graduated neutral density filter helps tone down the highlights.
Headlamp – Very few picture-worthy scenes are found right by the roadside. Several hours of hiking in the dark are not uncommon when shooting photography in Zion. Make sure you have a headlamp to hike safely in this environment. In addition, you will be happy you have one when setting up for your next gallery-worthy photograph.
Wide Angle Lens – Any serious landscape photographer needs to carry a wide-angle lens in their gear bag. Capturing a landscape as vast as Zion National Park requires a large field of view. For one thing, we want to pull the viewer into our image. A wide-angle lens allows us to capture the foreground easier, giving the viewer the feeling they are standing there.
Waterproof / Dustproof Backpack – One thing I have learned in my professional photography career is to do everything possible to protect your gear. Having a good waterproof backpack will do that for you. I never want to miss a shot because I was afraid I was going to ruin my gear getting there. With a waterproof bag, you can wade through the deepest waters in The Narrows or take a direct hit from a sandstorm without worrying about if your gear survived.
Bonus Section – One Of My Favorite Hikes In The Area
(Divine Calm – Limited Edition Fine Art Print Of 50 – Derek Nielsen Photography)
Kanarra Falls is one of the most beautiful hikes in the area. In fact, it might be my favorite short hike in Utah. Located one hour north of Zion, this hike is well worth the side trip. Similar to The Narrows, this hike is best accomplished with water shoes. As a result, several places in town rent appropriate gear for hiking this trail. A permit is always required for hiking and can be purchased easily online. In 2021 a powerful monsoon season devastated the area and knocked out the iconic wood ladder pictured frozen above. Consequently, someone felt it was time to add a permanent ladder. Now in its place is an aluminum staircase. Certainly not as iconic as the old tree ladder, but undoubtedly much safer.
What is so special about this hike is the building beauty of it all. The hike starts out as nothing special, but as you get further in, the walls of the canyon begin to narrow. Before you know it, you're crossing the creek back and forth until you are fully inside the slot canyon. The hike won't take more than 4 hours to complete unless you're like me and take tons of photos. Important to realize that the sun sets fast in the canyon, so keep an eye on the time. Hiking out in the dark is tricky. Being only a 4-mile hike, this is the perfect day trip outside Zion, saturated with beauty.
JOIN OUR NEWSLETTER AND FOLLOW OUR BLOG
For more information on any of the images or fine art prints in this article or how to fine-tune your nature photography skills, please check out more of our articles. Likewise, if you have enjoyed the photography inside the article, please visit our gallery for more information and a wider selection of luxury fine art photography from around the world. It is my absolute pleasure to share my intimate knowledge of wildlife photography with audiences around the world. All of my fine art images are sold to help support conservation organizations around the globe.
Written By: Derek Nielsen
Derek Nielsen Photography
---

Hello! I'm Derek.
DEREK NIELSEN PHOTOGRAPHY RAISES AWARENESS ABOUT THE GLOBAL NEED FOR CONSERVATION THROUGH PHOTOGRAPHY AND DONATES UP TO 15% OF ALL SALES BACK TO ENVIRONMENTAL ORGANIZATIONS AROUND THE WORLD.