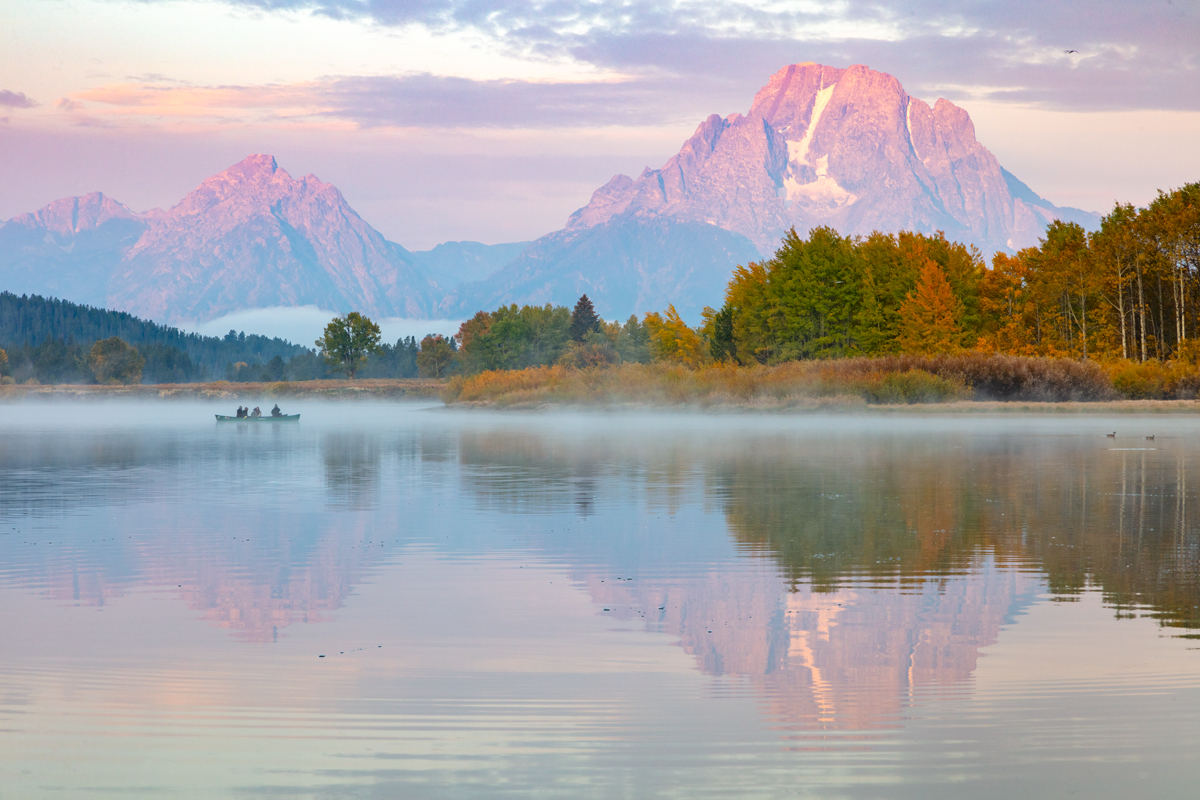 TOP 5 BEST SPOTS TO SEE FALL COLORS IN GRAND TETON
Fall colors in Grand Teton National Park, make this a particularly beautiful time of year to visit. Golden yellow aspen groves and amber leaves of fiery maples dot the landscape beneath the towering mountains as a backdrop. The Jackson Hole area is already a photographer's playground. Now, in late September, it's transformed into the type of setting artists only dream of. Navigating the park is fairly easy, but knowing what spots make for stunning fall photos is another. These 5 locations will give you the best opportunity to bring home some award-winning fall photographs of Grand Teton National Park.
1. OXBOW BEND FALL COLORS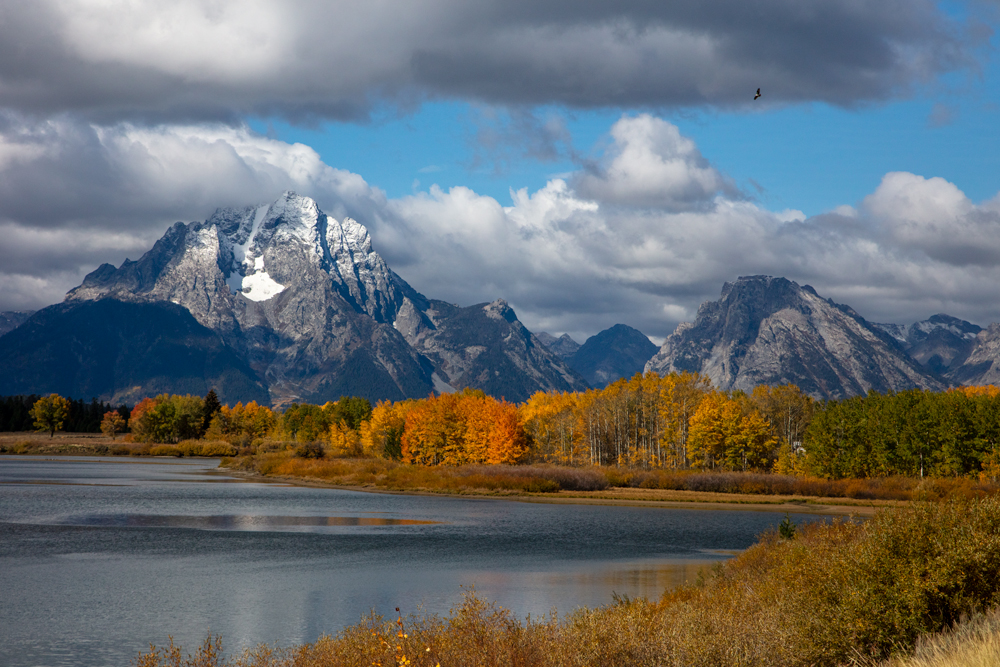 Oxbow Bend has a fabulous overlook over the water, looking perfectly west toward the Teton range and Mount Moran. This is my favorite spot for photographing the area's fall colors in the morning light. Get there early, though. Usually, an hour before sunrise for the best spots before the masses of other photographers pour in. Most people are respectful of your camera's line of sight but don't hesitate to tell someone they are in your way.
Pro tip #1 – Don't just fall victim to going to the same location 90% of the photographers will be at. This area is rich in composition ideas. Climbing the hill to the north gives an elevated view. Walking back toward the main entrance gives a great view over a fiery grove of trees still with the mountains in the background. Have fun. Get creative.
Pro tip #2 – Don't forget to bring your circular polarizing filter to bring out the rich colors in the sky and leaves.
Pro tip #3 – I always tell someone they are about a foot or two into whatever side of the frame they are entering. This is a nice way to let them know if they just move back a few steps, you're willing to share the space with them.
Photographing Oxbow Bend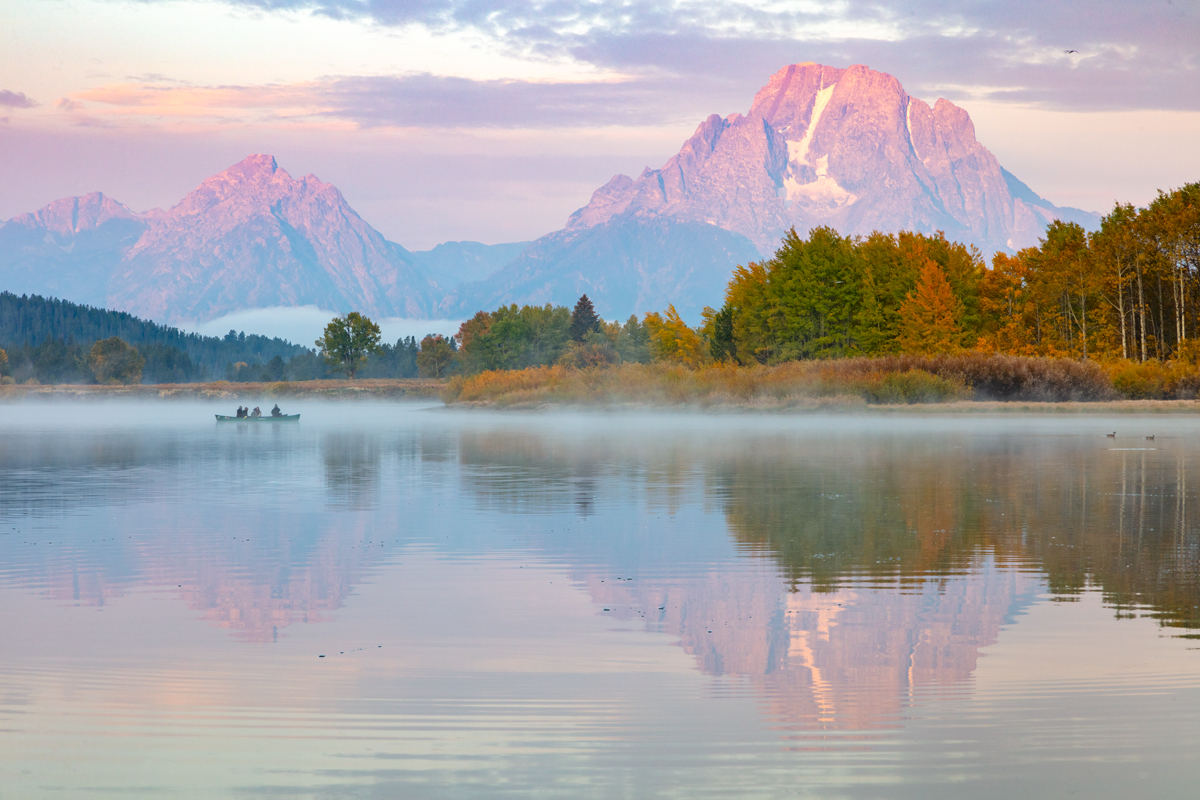 This location is one of the most photographed places during peak fall colors for a reason. Vibrant colors reflect off the lake so beautifully. Mount Moran provides a stunning backdrop with its snow-capped peaks. From the parking lot, there are several paths leading down to the banks of the Snake River. Images taken from the river bank give the best reflections off the water. Other people tend to shoot close to the parking lot using the brush as a foreground in the image. There is no right or wrong way to photograph this location. My recommendation is to research what people have done before and try to shoot something that makes you happy. Get creative with the autumn colors.
2. SNAKE RIVER OVERLOOK GRAND TETON NATIONAL PARK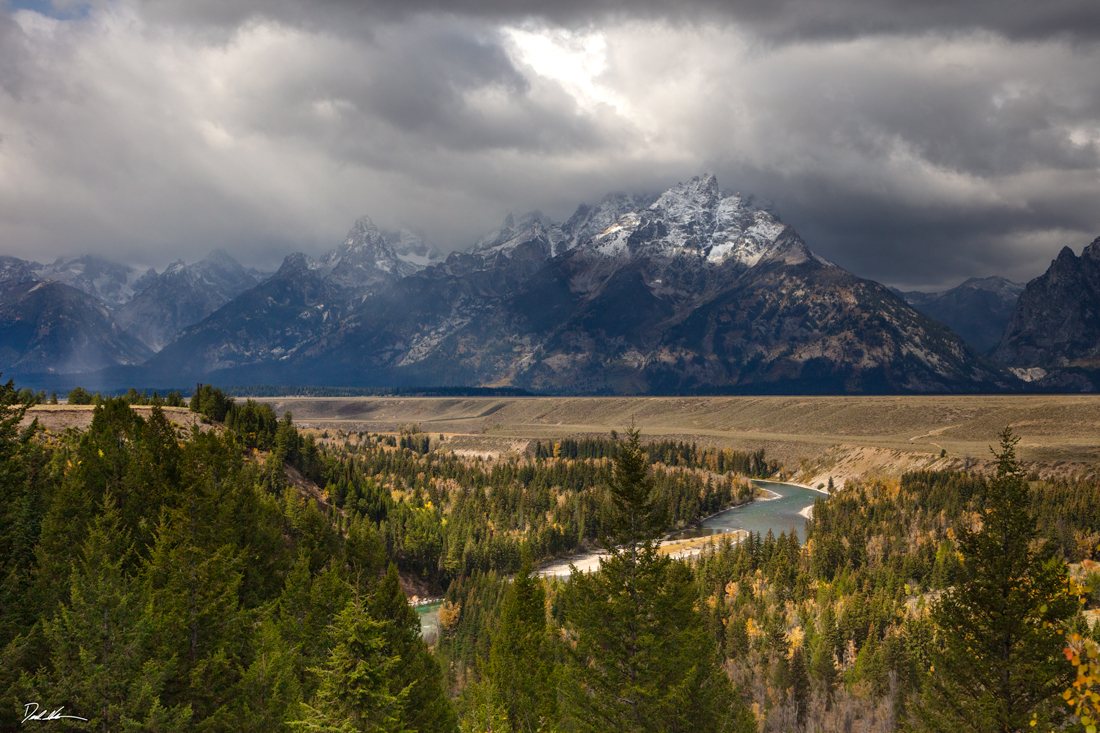 Made famous by the world-class photographer Ansel Adams, Snake River Overlook is still one of the best views of the Grand Teton National Park during fall. This iconic spot is a great place to take a break from a long day of hiking. With its pine trees mixed with yellow aspen trees, this setting allows for some dramatic compositions. I rank this high up on the list because, with the growing pine trees, this overlook will soon be difficult to photograph, so get there while you can. Drones are not allowed inside the park, but one can still get a pretty good look over the trees by climbing up on the rock wall or by bringing a ladder.
Getting To Snake River Overlook
Coming from Jackson – Snake River Overlook will be the next stop after the Teton Point turnout. This portion of the road is fairly straight. Heading North, the road turns east, traveling downhill through the forest. If you hit the forest, you have gone too far.
Coming from Moran Junction – Heading South toward Jackson, Snake River Overlook will be on your right after traveling through the winding forest portion of Route 26 or U.S. Highway 191.
3. WILLOW FLATS OVERLOOK GRAND TETON

(Heaven's Gate – Fine Art Print of 50 – Derek Nielsen Photography)
Home to one of the best shots of my career, Willow Flats Overlook holds a special place in my heart. During fall, the brush field turns a golden yellow and red where moose and bears navigate the network of mazes. Sunrise lights the mountains from the east, casting soft light across the range. As a photographer, you will often find yourself alone or at least with plenty of space to compose. Willow Flats is a large area with a big parking lot. Hold your breath for a stunning sunset, and just watch as the light changes with the fading day.
(Volcanic Moran – Fine Art Print of 100 – Derek Nielsen Photography)
Getting To Willow Flats Overlook
Once you have entered the park from the Moran Entrance Station, drive past Oxbow Bend. Teton Park Road will be on your left, leading to the Jackson Lake Dam, forming the Jackson Lake Junction. Once you have passed this junction, Willow Flats parking lots will be on your left.
Wildlife Watching At Willow Flats
This is one of the best places to spot moose, grizzly bears, elk, mule deer, and black bears in all of the park. Higher elevations give you a sweeping panoramic view of the range in an area where few trees are present. I highly recommend bringing powerful binoculars or a super-telephoto lens for spotting wildlife. They will not be close to the overlook, but chances are you will see them. Willow Flats is known for its abundant wildlife. Hiking trails do lead away from the overlook down into the flats. Be bear aware and never travel through here alone. The thick brush makes it difficult to see wildlife. The last thing you want to do is surprise a moose or bear while hiking.
4. SCHWABACHER LANDING GRAND TETON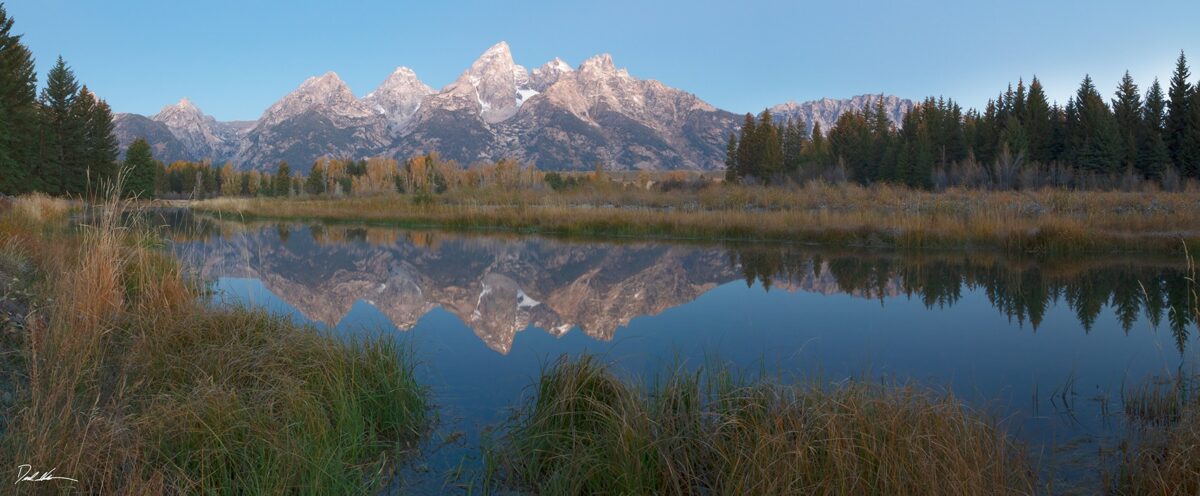 This location is popular with landscape photographers for a reason, it's gorgeous. Just like Oxbow Bend, get there early for the best composition spot. I recommend doing a little research during the off hours and finding some great compositions, so you're not scrambling in the dark to find one. This time of year, it is starting to get cold, and before the daylight hits, you'll be glad you aren't wandering aimlessly for a subpar photo.
Getting to Schwabacher
When traveling North From Jackson, Schwabacher Landing is easy to miss, particularly if you are driving in the early morning. After passing Jackson Airport, Mormon Row, Blacktail Ponds Overlook, and Glacier View Turnout, the road to Schwabacher Landing will be on your left. If you hit Teton Point Turnout, you have gone too far.
Photographing Schwabacher Landing
The landing basically has 3 locations to shoot from. The upper parking lot gives a sweeping view of the range, with the river in the foreground moving from left to right in the scene. Across the river rest a small field followed by tall pines and the mountains as the final backdrop. The lower parking lot gives another sweeping view of the mountains with less midground to play with. At this location, the river will move from left to right in your scene, wandering its way to the mountains in the distance. Last but not least, if you walk down a bit from the upper landing along the river, you can find a nice reflection pond giving the third but distinct overlook.
5. GROS VENTRE MOOSE IN FALL COLORS
The number one place to see moose this time of year in the Jackson Hole area is along the Gros Ventre River and along Moose Wilson Road. My preference is parking my car off one of the turnouts on Gros Ventre and hiking into the woods up along the river. This allows me an eye-to-eye perspective when photographing these beautiful animals. I want to be clear, I am a trained wildlife photographer using a 600mm lens. The images I have of moose are from a safe distance. It is because of the high-powered equipment I am able to get such intimate images of moose in their natural habitat. Please, do not approach moose on foot inside the park's recommended distance of 25 yards.
This is still very much bear country, so if you plan on hiking into the bush, bring bear spray. All of that being said, get out early. Moose typically bed down by 9 or 10 am, depending on the heat of the day. From the road, a moose can completely disappear in the bush because, lying down, they are only a few feet tall. As I wrote in an article devoted to Teton moose, try to get the sun at your back when photographing moose. Their dark fur can make it difficult to bring out the details in your exposure while still keeping the beautiful colors from overexposing.
READY TO VISIT THE FALL COLORS IN GRAND TETON NATIONAL PARK?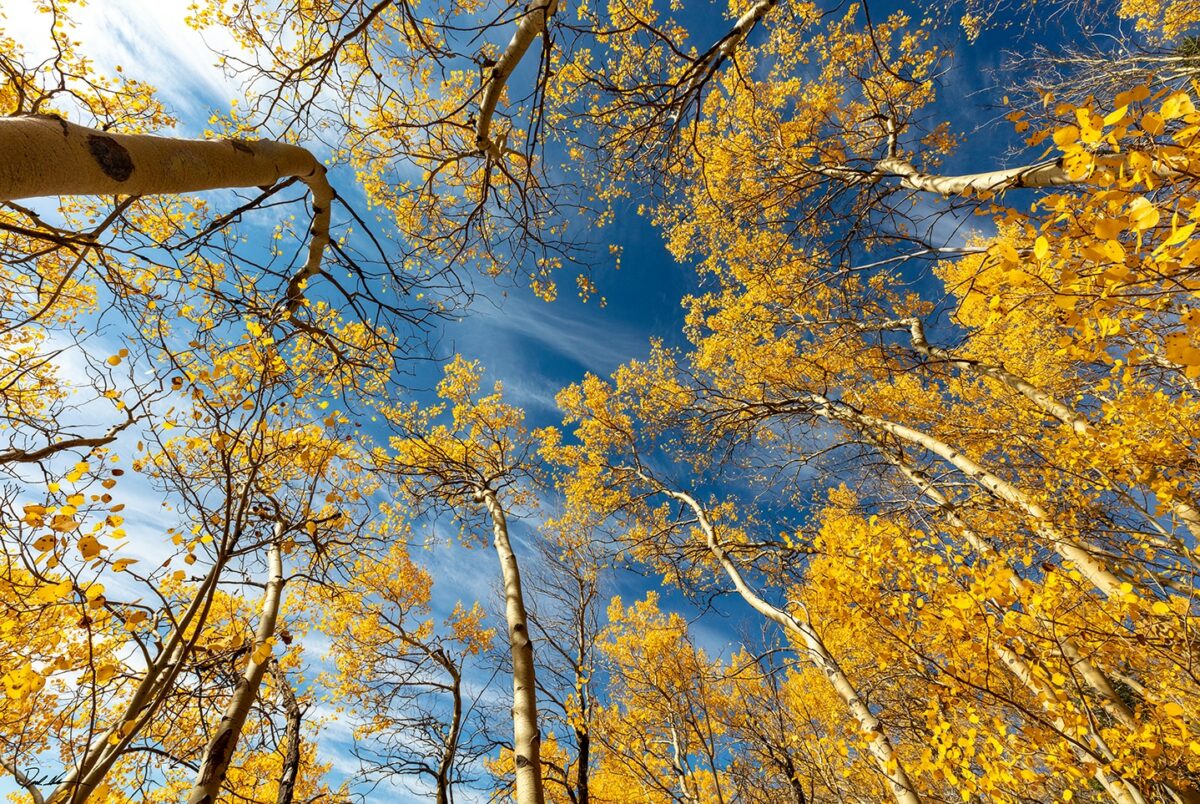 After spending six weeks hopping around Grand Teton National Park on an autumn road trip, I gained a strong appreciation for the towering peaks, wildlife, and beautiful forest. It's up to you now to find the perfect fall setting you are looking for, but these 5 locations will be sure to get you pointed in the right direction. Like so many of our national parks, Grand Teton National Park leaves visitors speechless from its beauty. Please visit the parks responsibly. Follow the rules set forth by the park staff, and please listen to the rangers. They are there to protect the wildlife from us humans and save our lives if we can't listen. Being bear aware is crucial to enjoying the park safely.
For more information on how to track Grand Teton Moose or how to fine-tune your nature photography skills, please check out more of our articles. If you have enjoyed the photography inside the article, please visit our gallery for more information and a wider selection of luxury fine art photography from around the world.
---

Hello! I'm Derek.
DEREK NIELSEN PHOTOGRAPHY RAISES AWARENESS ABOUT THE GLOBAL NEED FOR CONSERVATION THROUGH PHOTOGRAPHY AND DONATES UP TO 15% OF ALL SALES BACK TO ENVIRONMENTAL ORGANIZATIONS AROUND THE WORLD.